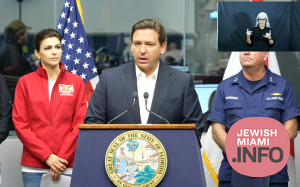 Governor Ron DeSantis Issues Updates on Hurricane Ian Recovery
Today, Governor Ron DeSantis traveled to Fort Myers Beach to give updates on recovery efforts in areas that have been impacted by Hurricane Ian. Floridians continue to show resiliency through communities coming together to help each other.
Governor DeSantis was joined by local officials to announce that access has been cleared for residents to return to Fort Myers Beach. Portable showers and restrooms were brought in for residents to use while the clean their homes. Governor DeSantis was also joined by Eric Silagy, CEO of Florida Power and Light (FPL) to give an update on the progress they have made in restoring power to their customers. FPL has already restored power to 99% of the households they cover in Lee County and Southwest Florida that can receive power.
On Wednesday, Governor DeSantis announced that bridge repairs were completed in record time to restore access to Pine Island. The Florida Department of Transportation (FDOT) has teams working around the clock on the Sanibel Causeway, the last barrier island to restore access to, and work is expected to finish by the end of the month.
Additionally, Governor DeSantis highlighted local efforts to aid residents in debris clean up and reiterated FDOT and the Division of Emergency Management's commitment to help with additional resources as needed. Panama City Mayor Greg Brudnicki and his team will be traveling to the impacted areas to help oversee cleanup and recovery. Just four years ago, his community was hit by Hurricane Michael and Mayor Brudnicki will be providing his knowledge to help southwest Florida navigate their community rebuild.
There are currently 69,009 reported power outages. More than 42,000 linemen have already restored power to over 2.6 million accounts across the state, representing over 97% of accounts restored since the peak. There are currently 11 fueling depot stations open statewide, and mobile fuel trucks have been deployed to Arcadia and Dunbar to support residents without access to fuel.
First Lady Casey DeSantis announced that the Florida Disaster Fund has raised nearly $40 million since activation. To read more info, click here. To contribute, please visit www.FloridaDisasterFund.org or text DISASTER to 20222.
Additionally, the First Lady has worked with the State Disaster Recovery Mental Health Coordinator, Sara Newhouse, to compile a webpage of resources to help first responders navigate resources for mental health needs post hurricane. To visit the site, click here. Mental health resources for individuals and communities are available at MyFLFamilies.com/HurricaneIan. Floridians' health and well-being are a top priority, and the Department of Children and Families is reminding individuals that they are not alone. All Floridians impacted by Hurricane Ian can find someone to talk to today through the Disaster Distress Helpline by calling 800-985-5990.
Additional programs that have been put into place to aid communities include the activation of the Florida Small Business Emergency Bridge Loan Program, the initiation of the Army Corps of Engineers' Operation Blue Roof, and FDOT's diligent work to construct temporary bridges into areas that are cut off from motorists. First Lady Casey DeSantis, Volunteer Florida and Tervis have created a design with Florida imagery for a new tumbler product. With every sale of this tumbler, all proceeds will go to the Florida Disaster Fund.