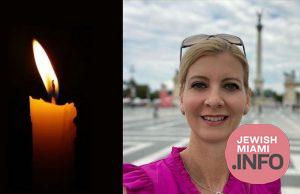 [GRAPHIC] Jewish Woman Brutally Murdered In Queens Over Pesach
by JewishMiami.info
A tragedy befell the Bukharian Jewish community of Queens, NY on the first night of Pesach, when a mother of two was brutally murdered in what is becoming a high profile homicide.
Orsolya Gaal, HY"D, a 51-year-old wife and mother, was found stabbed 58 times in her neck, torso, arm and hand, before being stuffed inside a duffel bag and dragged from her home.
The terrible scene was found near the Jacky Robinson Parkway when a passerby noticed blood leaking from the bag and called 911.
The murder, which is under investigation, has become high profile as the victim's husband, Howard Klein, allegedly received a text saying "your whole family is next."
The murder has put the entire Bukharian and Queen's Jewish community on edge, and the NYPD is actively looking for the murderer, who can be seen in the act in chilling surveillance footage.