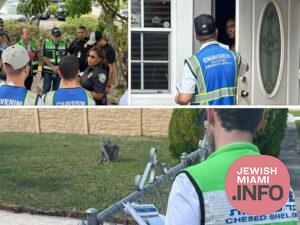 Hatzalah, Chaverim, and CSE Join North Miami Beach Police To Generate Leads In Murder of Hershy Schwartz OBM
by JewishMiami.info
Jewish volunteers from multiple organizations joined North Miami Beach Police officers Sunday afternoon handing out flyers to generate leads in the murder of Hershy Schwartz OBM.
"This afternoon, NMBPD officers, MDPD officers, and volunteers from Chaverim, all gathered together and collectively assisted each other with passing out flyers for the recent homicide that occurred in our neighborhood," the Miami Beach Police Department wrote on Social Media.
Schwartz was found murdered last Sunday in what is believed to be a robbery gone wrong. He was found shot next to his car in a parking lot.
Anyone with information relating to the homicide is urged to contact Det. E. Rivera at (305) 949-5500 ext.-2383