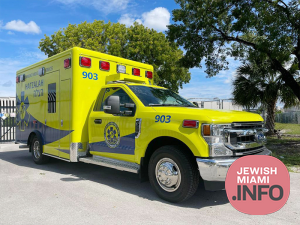 Hatzalah of South Florida Begins Emergency Transports in Boca Raton Just In Time For Rosh Hashana
by JewishMiami.info
Just in time for Rosh Hashana, Hatzalah of South Florida announced that it has begun providing emergency medical transportation in the Boca Raton/Deerfield Beach area.
"With tremendous gratitude to Hashem, Hatzalah South Florida is proud to announce the official launch of Ambulance transport in Boca Raton/ Deerfield Beach with the arrival of its first Ambulance this past Thursday," a report said.
Hatzalah launched its first response only services in the Boca Raton Boca Raton this past January and has seen staggering success.
"Ambulance transport was the next logistical hurdle and HSF is deeply grateful to the Vaad of Boca Raton, the local Hatzalah leadership and the 30+ Hatzalah volunteers in Boca who have worked tirelessly to build a top-tier professional Hatzalah operation," the report said.
Hatzalah is available 24/7 and can be reached at their emergency hotline number: 305-919-4900