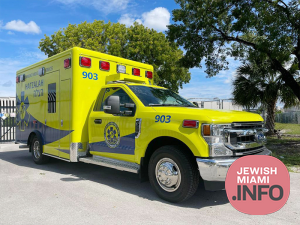 Hatzalah of South Florida Is Coming To Coral Springs
by JewishMiami.info
Live in Coral Springs and want to make a difference? Hatzalah of South Florida is looking for volunteers.
A flyer announcing the recruitment of Coral Springs volunteers for Hatzalah of South Florida heralds the arrival of the life saving organization to another large Orthodox Jewish community.
After thirteen years of operation and coverage of more than eleven neighborhoods, Hatzalah of South Florida continued its expansion to the most predictable community, Coral Springs.
The mostly Chabad-Lubavitch community lies around 20 minutes from Boca Raton and 15 minutes from Lauderhill, both communities already serviced by Hatzalah.
The launch of Hatzalah in Coral Springs was endorsed by Chabad of Coral Springs as well as Chevra Hatzalah.