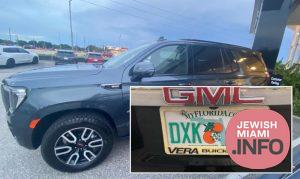 Hatzalah Vehicle Stolen Last Night, Investigation Underway
by JewishMiami.info
Crime is alive and well, and there choice of targets could not have been worse.
A car used by a North Miami Beach Hatzalah volunteer to respond to lifesaving emergencies was stolen overnight Sunday, leaving the volunteer without his emergency equipment or vehicle.
An urgent message from Zalmy Cohen asked community members to keep an eye out, and if you spot it to call 911.
The car, a dark colored GMC, did not have any obvious decals as a Hatzalah vehicle.