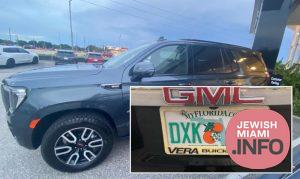 Hatzalah Volunteers Stolen Car Recovered, Two Arrested
by JewishMiami.info
A Hatzalah volunteers car stolen from in front of his North Miami Beach home has been recovered according to reports, and two people arrested.
As previously reported on JewishMiami.info, a North Miami Beach Hatzalah volunteer had his vehicle filled with lifesaving equipment stolen on on March 21st, leaving the volunteer without his emergency equipment or vehicle.
An urgent message from Zalmy Cohen asked community members to keep an eye out, and if spot to call 911.
The car, a dark colored GMC, was discovered recently parked with all the lifesaving equipment still inside. According to the Florida Scoop, two people were arrested.
Home footage from the time of the theft show that a white tow truck had stolen the vehicle, with reports of other vehicles similarly stolen in the area.