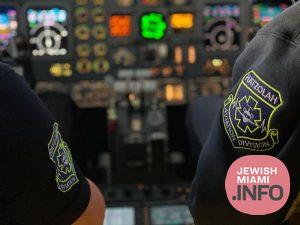 Credit: HatzolahAir Facebook
HatzolahAir To Get Headquarters At Sullivan County Airport
by Monsey.info
A little known airport in Sullivan County, New York has been named as the future home base for HatzolahAir.
The news was published by Sullivan County Friday with the signing of a lease on 21.7 acres of the Airport property, allowing them to build a permanent hanger and facility.
"We look forward to partnering with Sullivan County to operate a world-class lifesaving effort from its Airport," said HatzolAir Managing Director and County resident Eli Rowe. "This will mark the start of a new era for both us and the County."
The 30 year lease give a generous arrangement to HatzolahAir, who will be paying just $18 per year and providing emergency services to the county.
The lease was given the green light by the Sullivan County Legislature in a 8-0 vote on September 14th, and included a requirement that HatzolAir will partner with the Sullivan County Sheriff's Office and Sullivan County's Division of Emergency Management to make emergency, lifesaving and search-and-rescue equipment available for emergency operations in the County.
The new facility to be built by HatzolahAir could include a permanent hangar, world headquarters, fuel farm, parking area and an outdoor recreational space, according to the agreement.
The term of the 30 year lease is that HatzolAir has the option to automatically renew that lease three successive times, each time for a term of 30 years, for a potential total of 120 years.
Until the new hangar and headquarters are built, HatzolAir will use the Airport's existing Hangar 7, which is approximately 9,000 square feet.
The agreement also unearthed some rather interesting numbers, including that last year HatzolAir purchased 400,000 gallons of fuel for their operations, and utilized two jets.
For the future, the agreement shows that HatzolahAir anticipates have five jets and a helicopter which will be based at Sullivan County Airport.