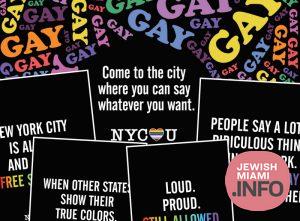 HILARIOUS: NYC Mayor Announces Campaign In Florida Over New Law and Inviting Floridians to Move to New York
by JewishMiami.info
It appears NYC Mayor Eric Adams is looking to mitigate the exodus from the city by inviting Floridians to move to New York City over Florida's new "Don't Say Gay" law.
New York City Mayor Eric Adams announced the launch of the digital billboards and creative ads campaign denouncing the recent passage of the "Don't Say Gay" in five Florida cities.
According to a press release from Adams, the campaign is a "reaffirmation of Mayor Adams' commitment and unconditional support for the LGBTQ+ community."
The new Florida legislation bans instruction on sexual orientation and gender identity from kindergarten through third grade, a move Adams terms "a targeted attack on the LGBTQ+ population".
"I am the mayor of New York City, but I have a message for Florida's LGBTQ+ community — come to a city where you can say and be whoever you want," said Mayor Adams. "Florida's 'Don't Say Gay' bill is the latest shameful, extremist culture war targeting the LGBTQ+ community. Today, we say to the families living in fear of this state-sponsored discrimination that you will always have a home in New York City."
Creative content for the billboards was designed in partnership with WPP companies, VMLY&R, GroupM, BCW, and H+K Strategies. All of the donated ad space was secured by Kinetic, a GroupM company. In total, there will be five unique pieces of creative art that will run across digital billboards and social media.
The outdoor campaign and activation will be aimed and run in the following markets of Florida from April 4 through May 29, for a total of eight weeks — delivering an estimated 5 million impressions.
The campaign billboards will run in the following locations: Fort Lauderdale, Jacksonville, Orlando, Tampa, and West Palm Beach.