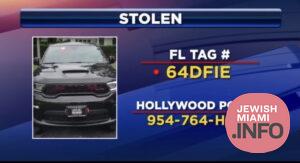 Hollywood Hatzalah Volunteer's Car Stolen Along With Lifesaving Equipment
by JewishMiami.info
No good deed goes unpunished.
A South Florida Hatzalah volunteer who has dedicated countless hours to saving lives, suddenly found himself the victim of a car theft, taking his response vehicle and thousands of dollars in medical equipment.
"One of our #Hatzalah responder's vehicle was stolen along with thousands of dollars worth of lifesaving medical equipment," Hatzalah of South Florida wrote in Twitter.
While this is hardly the first such theft of a car, the fact that it was a Hatzalah vehicle makes the theft exceptionably egregious.
If you have any information regarding the vehicle of the theft, please contact the Hollywood Police Department at 954-764-HELP.