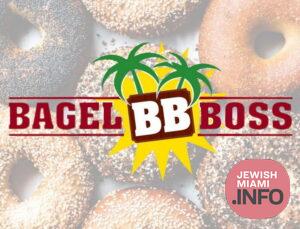 Hollywood, Say Hello To Bagel Boss
by JewishMiami.info
If you find yourself craving the perfect bagel in South Florida, then you have reason to rejoice. Bagel Boss is coming to town.
The famous Bagel Boss with stores across the country has announced that it will be opening an arm of its enterprise in the Jewish area of Hollywood, Florida in a matter of months.
"THE WAIT IS OVER. Bagel Boss is heading south," Bagel Boss posted on their Instagram page. "In the meantime, we are opening a Bagel Boss Express at the David Posnack JCC in Davie, FL in July. Get ready to satisfy that bagel craving with our authentic NY bagels and spreads."
The move is literally exciting as the thousands of bagel lovers who find themselves without options for the perfect bagel have another option to look forward to.
"We couldn't be more thrilled to finally be a part of the Florida community," Bagel Boss wrote. "See you all soon!"