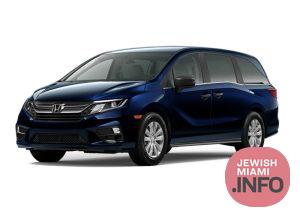 How To Buy A New Minivan Without Getting Gouged; My Experience, Plus Leasing Vs. Buying
I'm a big believer in buying a car over leasing it and have been preaching that on DDF for many years.
I mean, I understand that nothing compares to that new car smell, but few people do the math to calculate just how much they're paying for that privilege.
We bought a Honda Odyssey Touring back in August 2013 for $37,000+$3,000 tax after negotiating about $5,000 off the sticker price. I added a 7 year Hondacare warranty for another $720 for the peace of mind.
We drove that car until 2 weeks ago, when we learned that the car was going to need some heavy maintenance in the near future. Until now, pretty much everything except routine maintenance has been covered by Hondacare.
So I requested a quote from Carvana, and they offered us $19,715 for the over 9 year old car.
How incredible is that?
When we bought our car, the cost of leasing it would have been around $616 per month. The actual cost of the car including tax and warranty was $21,000. We drove it without issues for 111 months. To keep things simple by ignoring the time value of money, lease price inflation, lease buyout, and many other factors, that means the car has been essentially free for the past 77 months. You can quibble with that math of course as it is oversimplified, but buying that car was a no-brainer for us.
Of course, now we would need a new car and anyone in the market for a van knows that dealers are having a field day with that due to demand outsripping the constrained supply chain.
Keeping a van for as long as we do, I wanted to get one with all the bells and whistles, and with 8 seats. That ruled out the Sienna, as it only comes with 7 seats on the higher trims. Parking sensors were a must, so I wanted to at least get the Odyssey Touring Trim. At that point, I figured that I'd splurge on the Elite trim, which adds niceties like hands-free tailgate, heated and ventilated front seats, and a wireless phone charger. I also assume that way down the line the higher trim will also be able to be resold for more money, so you're not really paying the full cost of the upsell for each trim level.
I started by requesting quotes via AMEX/TrueCar and kept expanding the search to anywhere within about about a 7 hour drive of Cleveland, which stretched from Chicago/Detroit to NYC/Baltimore.
I had luck using TrueCar with the 2014 Odyssey, but this time I struck out via that service. Very few participating dealers had the van in stock and one dealer an hour away from us that did have it in stock got annoyed when I said I wanted a quote without any extras.
At least they offered "do" respect and explained that I should read the fine print when I asked why they wanted thousands above the price they were advertising there…
At this point I decided to search on Honda.com to build a car and then find which dealers actually had the van in stock.
The process is cumbersome, as we were willing to take pretty much any color, but you need to search for each color separately and repeat the process by zip code. It's no easy feat to actually find a car in stock these days, but they do exist if you are willing to expand your search area and it will then display as in transit or in stock.
The only ones I found near me were for a car in transit, but I found that dealers were not willing to give a fair price for cars in transit, with "market value" selling prices and lot of bogus extras.
They wanted me to call them up, but I always insist on doing everything via email. However, even after going back and forth for the car in transit…
The quote was still more than I wanted to pay:
So I had to expand my horizons to dealerships that actually had the van in stock.
I found one in Baltimore, but they refused to sell to non-locals:
I then found a dealership outside of Pittsburgh that had one in stock. I asked for an out the door quote including taxes based on my home address.
Honda.com showed this for the MSRP for the car they had on the lot, based on the 8% tax rate for my home zip code:
They sent an initial quote just under those numbers:
I asked if they could sell the car for the base MSRP of $49,470 and waive the doc fee, destination charge, and other fees, and they came back with this:
I pushed again for what I asked for and they agreed to an additional discount to get there:
I asked the local dealer with the car in transit to match or come close to the price, but they said not a chance, and to let them know when the deal falls through.
But I was confident enough in the quote I got, so Mimi and I hopped into my Tesla Model 3 and we drove to the suburbs of Pittsburgh to pick up our new van.
There's really nothing quite like Tesla Autopilot for a road trip. It takes all of the fatigue out of driving. The only pity is that they don't make a van.
There was a Tesla supercharger within walking distance of the dealer, so I plugged in my car and we walked over to the dealer.
I have just a few free Tesla supercharger miles, so it worked out well…
https://platform.twitter.com/embed/Tweet.html?creatorScreenName=DansDeals&dnt=true&embedId=twitter-widget-0&features=eyJ0ZndfdGltZWxpbmVfbGlzdCI6eyJidWNrZXQiOlsibGlua3RyLmVlIiwidHIuZWUiLCJ0ZXJyYS5jb20uYnIiLCJ3d3cubGlua3RyLmVlIiwid3d3LnRyLmVlIiwid3d3LnRlcnJhLmNvbS5iciJdLCJ2ZXJzaW9uIjpudWxsfSwidGZ3X2hvcml6b25fdGltZWxpbmVfMTIwMzQiOnsiYnVja2V0IjoidHJlYXRtZW50IiwidmVyc2lvbiI6bnVsbH0sInRmd190d2VldF9lZGl0X2JhY2tlbmQiOnsiYnVja2V0Ijoib24iLCJ2ZXJzaW9uIjpudWxsfSwidGZ3X3JlZnNyY19zZXNzaW9uIjp7ImJ1Y2tldCI6Im9uIiwidmVyc2lvbiI6bnVsbH0sInRmd19jaGluX3BpbGxzXzE0NzQxIjp7ImJ1Y2tldCI6ImNvbG9yX2ljb25zIiwidmVyc2lvbiI6bnVsbH0sInRmd190d2VldF9yZXN1bHRfbWlncmF0aW9uXzEzOTc5Ijp7ImJ1Y2tldCI6InR3ZWV0X3Jlc3VsdCIsInZlcnNpb24iOm51bGx9LCJ0Zndfc2Vuc2l0aXZlX21lZGlhX2ludGVyc3RpdGlhbF8xMzk2MyI6eyJidWNrZXQiOiJpbnRlcnN0aXRpYWwiLCJ2ZXJzaW9uIjpudWxsfSwidGZ3X2V4cGVyaW1lbnRzX2Nvb2tpZV9leHBpcmF0aW9uIjp7ImJ1Y2tldCI6MTIwOTYwMCwidmVyc2lvbiI6bnVsbH0sInRmd19kdXBsaWNhdGVfc2NyaWJlc190b19zZXR0aW5ncyI6eyJidWNrZXQiOiJvbiIsInZlcnNpb24iOm51bGx9LCJ0ZndfdmlkZW9faGxzX2R5bmFtaWNfbWFuaWZlc3RzXzE1MDgyIjp7ImJ1Y2tldCI6InRydWVfYml0cmF0ZSIsInZlcnNpb24iOm51bGx9LCJ0Zndfc2hvd19ibHVlX3ZlcmlmaWVkX2JhZGdlIjp7ImJ1Y2tldCI6Im9uIiwidmVyc2lvbiI6bnVsbH0sInRmd190d2VldF9lZGl0X2Zyb250ZW5kIjp7ImJ1Y2tldCI6Im9uIiwidmVyc2lvbiI6bnVsbH19&frame=false&hideCard=false&hideThread=false&id=1584643938941796353&lang=en&origin=https%3A%2F%2Fwww.dansdeals.com%2Fmore%2Fdans-commentary%2Fadvice%2Fbuy-new-minivan-without-getting-gouged-experience-plus-leasing-vs-buying%2F&sessionId=dcae21e4e2141e7fd9743118c360c70b5de88339&siteScreenName=DansDeals&theme=light&widgetsVersion=a3525f077c700%3A1667415560940&width=550px
The dealer couldn't match the Hondacare quote I got from Hyannis Honda, so I bought a 7 year warranty from Hyannis for $845 with no sales tax owed on that. Adding an 8th year would have bumped it up to $1,285, which seemed hard to justify, though perhaps Honda knows that's when issues start popping up?
The dealer didn't try to pull any fast ones, and they honored the quote, which came out to $2,354.17 less than the MSRP+tax price on Honda.com, and several thousands of dollars less than I would have paid locally.
After a signing a bunch of documents, they handed over the keys. It was the most pain-free buying experience I've had to date. We ate some deli sandwiches made with Chicago's famous Romanian meat that I had picked up a couple days prior, and then drove separately back home.
Passing my wife on the Ohio turnpike:
The local dealer who said they would have the car in transit ready for pickup any day, still doesn't have it in stock, though they emailed asking if my deal fell through. I let them know it did not and to please take me off their email list.
The dealer from AMEX/True Car who went full "do respect" on me when I asked for a quote without extras as they advertised, kept pestering me until I asked for it to stop:
Carvana came to our house the next day and 2 minutes later I had a check for our old van and they drove away with the car and title. Their offer had beat the offers of every other online seller. I searched for our VIN on their site 2 weeks later and they're trying to flip it for an $8,000 profit, though I'm skeptical they'll get it. At any rate, it's no longer my problem!
If you are trying to buy a car today, definitely search the manufacturer's site for dealers that actually have it in stock, then try emailing them for an out the door quote including all taxes and without any extra fees or extras tacked on.
Oh, and of course be sure to use a fake phone number and a SPAM email address!
Several other DDF members have had success finding cars and vans at sticker price in Pittsburgh and its environs. I'm not sure why that would be, but it's good to know!
Have you bought a van or car recently? What tips do you have?