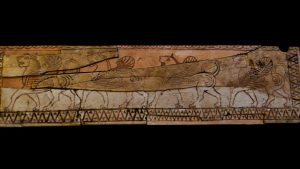 Hundreds of Looted Ancient Relics Found in Jerusalem Apartment
Rare and decorated bone and ivory items from the biblical period and ancient bowls dating back some 1,500 years, bearing spells and incantations in Hebrew, were uncovered in the home of a resident of the Ramat Shlomo neighborhood of Jerusalem, suspected of illegal trade in antiquities.
Hundreds of antique coins, glassware and weapons were also discovered during a cooperative search by the Antiquities Authority's Robbery Prevention Unit and Lev HaBira police.
The incantation bowls, known as the "swearing bowls" were used as a kind of amulet in ancient times, and date back to the 8th-4th centuries CE. It was common practice to bury them under the house floor for protection. Inside the bowls, magical inscriptions were written in the Babylonian-Aramaic language. The inscription in the bowl is meant to fight curses, demons, diseases, and pests.
Read More at israelnationalnews