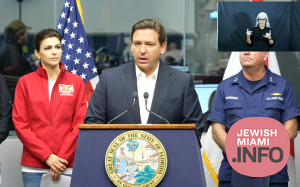 Ian Recovery Update: 1,900 Rescues Made, 585,523 People Without Power, 4,746 Miles of State Roadway Cleared
Today, Governor Ron DeSantis received a briefing at the State Emergency Operations Center and will continue to travel to areas impacted by Hurricane Ian. Yesterday, the Governor visited Sarasota and DeSoto counties to distribute hot food, meet with survivors, and issue updates.
Governor DeSantis has highlighted relief efforts that directly aid Floridians, including the start of the fuel tax holiday, and promoted debris removal in communities where it is safe to do so. There are currently 42,000 linemen responding to the more than 585,000 reported power outages. They have already restored power to more than 2.1 million accounts across the state. USAR teams with more than 1,000 personnel have gone door to door to 65,000 structures to check on occupants. There are currently 9 fueling depot stations open statewide.
First Lady Casey DeSantis announced that the Florida Disaster Fund has raised over $21 million in the first 48 hours of activation. To read more info, click here. The Florida Disaster Fund is the State of Florida's official private fund established to provide financial assistance to our communities as they respond to and recover from times of emergency or disaster. In partnership with public, private, and other non-governmental organizations, the Florida Disaster Fund supports response and recovery activities. To contribute, please visit www.FloridaDisasterFund.org or text DISASTER to 20222.
Safe and found persons can be reported safe at http://safe.fl.gov.
State response efforts include:
Search and Rescue
As of 7 a.m. today, more than 1,900 rescues have been made.
There are more than 1,000 team members performing search and rescue.
Power
There are currently 585,523 people without power.
More than 2.1 million accounts have already been restored across Florida.
For a full report on current outages, click here.
42,000 linemen from utilities across the state are working 24/7 to restore power.
325 Florida Highway Patrol are transporting utility crews.
412 health care facilities have had power restored since the onset of the event.
Infrastructure
Today, FDOT deployed 13 trucks to begin working on a temporary bridge in Pine Island.
Cut and Toss crews cleared over 4,746 miles (88% complete) of state roadways. Continue to listen to local law enforcement and county officials for potential detours
Road and Bridges

Current Major Road and Bridge Closures. The list of closures as of 7:00 a.m., 10/3/22 is listed below. Up-to-date closures listed on FL511.com:
SR-46 Westbound at Hatbill Road – Lane closed
DeSoto County

SR-70 from CR-661 to N Baldwin Avenue – Lane closed, both directions
SR-70 at NW Lily Avenue – Lane closed, both directions
SR-72 from CR-661 to SR-70 – Lane closed, both directions
SR-72 from Myakka Valley Trail to NW Flint Road – Lane closed
SR-72 at SW Gator Trail – Lane closed, both directions
US-17 Northbound beyond CR-760 – All lanes closed
US-17 Northbound from SW Welles Avenue to SW Fletcher Street – All lanes closed, both directions
US-17 Southbound from CR-760 to SW Fletcher Street – All lanes Closed
US-17 at Karson Avenue – All lanes closed, both directions
Flagler County

S Oceanshore Boulevard at S 14th Street – Lane closed, both directions
Hardee County

SR-64 Eastbound at Golfview Drive – Lane c4osed
SR-64 at Peace River – Lane closed, both directions
SR-64 from Florida Cracker Trail to School House Road – Lane closed, both directions
US-17 at Bronco Drive – All lanes closed, both directions
US-17 from 9th Avenue W to Moffitt Road – All lanes closed, both directions
Lee County

Pine Island Road Bridge (SR-78/Pine Island Road at Matlacha Draw Bridge)
Sanibel Causeway
Bonita Beach Road at Simmons Lane – All lanes closed
Captiva Drive from Palmflower Lane to Sanibel Captiva Road – Lane closed, both directions
CR-865 at Broadway Channel – Lane closed, both directions
CR-865 from Estrellita Drive to Cape Hickory Court – Lane closed, both directions
CR-867 Southbound from Port Comfort Road to Punta Rassa Road – All lanes closed
Estero Boulevard at Broadway Channel – Lane closed, both directions
SR-867/McGregor Boulevard Northbound beyond Winkler Road – All lanes closed
Manatee County

SR-37 at Manatee/Polk County Line – Lane closed, both directions
SR-70 at County Line Road – Lane closed, both directions
Orange County

SR-528 Westbound at Exit 12: SR-551/Goldenrod Road North Bound – On and Off-ramp closed