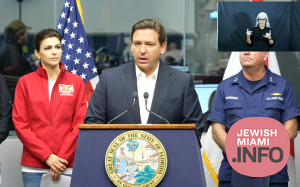 Ian Update: More than 1,100 Rescues Made, Approximately 1.6 Million Still Without Power, Over 4,457 Miles of State Roadways Cleared
Today, Governor Ron DeSantis issued updates on Hurricane Ian after surveying various impacted areas and meeting with impacted communities. Governor DeSantis traveled to Waffle House in Punta Gorda to serve food and meet with first responders, emergency response staff and volunteers. The Governor also traveled to Fort Myers to visit points of distribution for Floridians impacted by Hurricane Ian.
Today, the Governor announced that 30 Starlink units have been deployed to Lee and Charlotte Counties to help residents communicate once they check into established points of distribution in these counties, in addition to 10 smaller Starlink units for Emergency Operations Centers and first responders to use to communicate in the field. There are currently 42,000 linemen responding to the more than 1.2 million reported power outages. They have already restored power to more than 1.4 million accounts across the state.
The state website for reporting missing persons related to Hurricane Ian is http://missing.fl.gov. If you need to report a missing person, fill out the form on behalf of "Someone Else." You can also fill out the form on behalf of yourself if communications are limited. Safe and found persons can be reported safe at http://safe.fl.gov.
First Lady Casey DeSantis announced the first awards from the Florida Disaster Fund, to read more info, click here. The Florida Disaster Fund is the State of Florida's official private fund established to provide financial assistance to our communities as they respond to and recover from times of emergency or disaster. In partnership with public, private, and other non-governmental organizations, the Florida Disaster Fund supports response and recovery activities. To contribute, please visit www.FloridaDisasterFund.org or text DISASTER to 20222.
State preparation and response efforts include:
Search and Rescue
As of 7 a.m. this morning, more than 1,100 rescues have been made.
There are more than 1,000 team members performing search and rescue.
Florida National Guard members are conducting Liaison missions in 14 counties to support and coordinate emergency response missions and requests in those counties.
Florida National Guard engineering resources were deployed to assist with route clearance in Pinellas and Lee Counties.
The Missouri Task Force 1 Disaster Situational Assessment and Reconnaissance (DSAR) Team is deploying to Florida through the Emergency Management Assistance Compact to support urban search and rescue efforts and incident assessment.
Florida National Guard began executing search and rescue (SAR) missions in support of local authorities, to recover distressed civilians throughout southwest and central Florida, including 1,076 civilians rescued and evacuated from flooded areas, two hoist rescues, 78 civilians transported from flooded elderly care facility, and a total of 178 rotary wing rescues.
A Florida Unmanned Aircraft System (UAS) Team deployed to Central Florida to support state USAR Task Forces and incident assessment.
The National Guard and the Coast Guard are landing helicopters on barrier islands to perform search and rescue.
Following Governor DeSantis' authorization, a total of 5,000 Florida Guardsmen have been activated to State Active Duty for Hurricane Ian response operations. Up to 2,000 Guardsmen from neighboring states are also activated to assist. The Florida National Guard are supporting a total of 152 active missions.
Power
There are currently 1.6 million people without power.
More than 1.4 million accounts have already been restored across Florida.
For a full report on current outages, click here.
42,000 linemen from utilities across the state are working 24/7 to restore power.
325 Florida Highway Patrol are transporting utility crews.
Infrastructure
The Myakka River under I-75 continues to rise, no longer making it safe to drive. Motorists should take an alternative route or follow the detour map located here.
Cut and Toss crews cleared over 4,457 miles (83% complete) of state roadways. Continue to listen to local law enforcement and county officials for potential detours
FDOT bridge inspectors continue to inspect bridges. Currently, 2,355 bridges have been inspected as of 7 a.m.
All High Priority Bridges Cleared in Tampa Bay, Southwest Florida, Northeast, and Central Florida
Projects under construction in the following counties can resume activities:
o Alachua, Bay, Baker, Bradford, Broward, Calhoun, Clay, Columbia, Dixie, Duval, Escambia, Franklin, Gadsden, Gilchrist, Gulf, Hamilton, Holmes, Indian River, Jackson, Jefferson, Lafayette, Leon, Levy, Liberty, Madison, Martin, Miami Dade, Monroe, Nassau, Okaloosa, Palm Beach, Putnam, Santa Rosa, St. Johns, St. Lucie, Suwannee, Taylor, Union, Wakulla, Walton, Washington
Road and Bridges

Current Major Road and Bridge Closures. The list of closures as of 7:00 a.m., 10/1/22 is listed below. Up-to-date closures listed on FL511.com:
o A Max Brewer Memorial Parkway at Indian River – All lanes closed, both directions
o I-75 at MM 179 through MM 193 – All lanes closed, both directions
o Tamiami Trail Southbound at Peace River – All lanes closed
o US-41 Southbound at Peace River Bridge – All lanes closed
o I-10 Westbound at I-75 Southbound – Off-ramp closed
o I-10 Eastbound to I-75 Southbound – Off-ramp closed
o I-75 Southbound at I-10 – All lanes closed