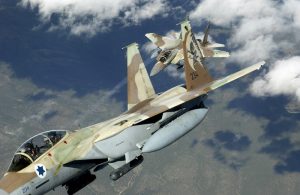 IDF Attacks Hamas Targets in Gaza After Two Rockets Land in Sea Off The Coast of Tel Aviv
The IDF attacked Hamas targets in the Gaza Strip overnight Saturday, in retaliation for two rockets launched early Saturday morning towards central Israel.
The IDF Spokesperson's Unit said that "fighter jets and fighter helicopters attacked a short time ago a series of targets in a Hamas terrorist rocket compound. In addition, tanks attacked Hamas military positions on the Gaza Strip border."
"The scope of the targets and the type of targets were attacked in response to the rocket fire this morning, from the Gaza Strip to the shores of the Mediterranean Sea, west of Gush Dan," the statement added.
Read More at israelnationalnews