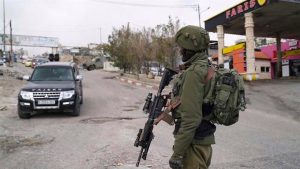 IDF Soldier Dies After Shooting Attack Near Shavei Shomron
A 20-year-old Israeli soldier was severely injured Tuesday in a shooting attack near the eastern gate of Shavei Shomron, he later died from his wounds.
The terrorists opened fire towards a nearby junction, and one of the bullets hit the young man's shoulder. Initially, his condition was declared to be "light" but it later deteriorated.
IDF soldiers have begun searching the area for the terrorists. As part of the search, security forces have entered several nearby villages and set up road blocks. It is suspected that the terrorist opened fire from his vehicle, and then escaped the scene.
Read more at israelnationalnews
Update: The soldier who passed away has been identified as Ido Boruch, 21, who served in the Givati Brigade.