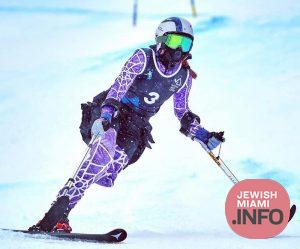 Israel's Only Winter Paralympic Competitor This Year Will Be A Frum Woman
by JewishMiami.info
The only member of Israel's Paralympic team that will be competing in this yeas Winter Paralympic Games in Beijing will be a Lubavitcher woman.
Sheina Vaspi is a twenty-year-old Lubavitcher who grew up in Yesod HaMa'ala in northern Israel.
After loosing her left leg in an accident as a three year old girl, Sheina found her dream in skiing when she was introduced to the Erez Foundation, a nonprofit organization established in 1999 by veterans of the Israel Defense Forces' Alpine Unit to help disabled soldiers and children with special needs learn how to ski.
Her dedication and love for the sport quickly earned her a into the United States, where she joined an intensive coaching school under Scott Olson at the National Sports Center for the Disabled in Colorado.
Olson summed up Sheina's talent when he said "She's got a drive that really isn't matched by a lot of people, male or female. Every time she fails, she comes back better and stronger."
Following another competition in Sweden, Sheina will be on the slopes in Beijing this March, with her full tznius skirt and Jewish pride.
Eli Birnbaum, chairman of the Israel Paralympic Committee, said: "We are so proud that a sunny country like ours has managed to put up a representative in this winter sport. This is a badge of honor for all those involved — Sheina and her professional staff, the Paralympic Committee and the Erez Foundation."