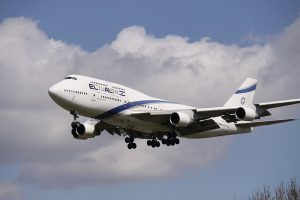 Israel's Skies to Fully Reopen at Midnight
by JewishMiami.info
Israel's "Red Country" travel restrictions will be lifted at midnight tonight, opening up the skies for travel and tourism.
The news was broken by Israel's Health Ministry Director-General Prof. Nachman Ash.
The dropping of the "Red Countries" will open up travel from the United States, United Kingdom. France, South Africa, Canada, the United Arab Emirates, Ethiopia, Turkey, Switzerland, Hungary, Spain, Portugal, Tanzania and Nigeria, subject to the approval of the government and the Knesset's Constitution Committee.
The anticipate move comes as the COVID-19 Omicron variant wrecks havoc in Israel and across the globe, creating a situation where such travel restrictions serve no purpose.