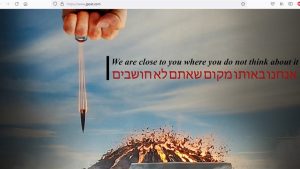 Jerusalem Post Website Hacked
The website of the Jerusalem Post was hacked on Sunday night and replaced with an image of a rocket coming out of a ring on a person's finger.
Next to the image was the text, "We are close to you where you do not think about it" and a similar text in Hebrew.
The Twitter account of the Maariv newspaper, which has the same ownership as the Jerusalem Post, was briefly hacked as well and the account tweeted the same image. However, that tweet was subsequently deleted.
Read More at israelnationalnews