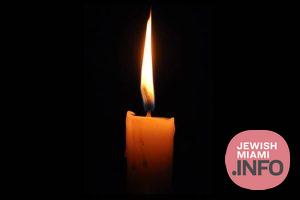 Jewish Long Island Couple Identified as Victims In Double Fatal Crash
by JewishMiami.info
Arie (82) and Zahava (79) Oberlender of Long Island, NY have been identified as the victims in a double fatal crash on Route 441 near Boca Raton last week.
According to BocaNewsNow, the Jewish couple had been driving a Nissan Rouge near the intersection of Kimberly Blvd. and U.S. 441 when a Jeep being driven by Jamie Escobedo illegally entered the intersection and slammed into their car.
The force of the crash was so great that the vehicle rolled onto its roof, where the Long Island couple were trapped as Firefighters attempted to extricate them. They were sadly pronounced dead at the scene.
Another passenger was transported to the hospital in critical condition.