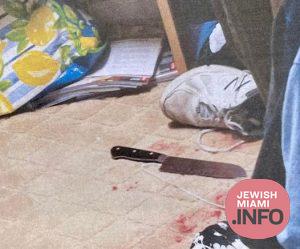 Credit: Palm Beach Sherriff's Office
Jewish Man in Custody After Holding Therapist Hostage, Getting Shot by Police
by JewishMiami.info
A terrible story unfolded this past Friday night in Boca Raton when a Jewish man held his therapist hostage in his home and repeatedly assaulted her.
The Palm Beach Sheriff's Office responded to a call from the therapist's partner on Shabbos morning claiming that she had not returned home after visiting a client at his home in Boca Friday.
Officers arriving at the home on the 22000 block of Larkspur Trail around 6:30am heard a woman screaming for help, and after breaking into the home found Tzvi Allswang, 20, holding the woman at knifepoint. After repeated commands to drop the weapon, officer Sgt. William Nogueras, a 14-year veteran of the police force, discharged his department-assigned firearm, striking Allswang in the head.
Allswang and the therapist were both transported to separate hospitals where they are listed in stable condition.
The Palm Beach Sherriff's Office deputy involved in the shooting is currently on paid administrative leave, which is standard department protocol, as the investigation continues.
Allswang is faced with charges of Armed False Imprisonment and Aggravated Assault with a Deadly Weapon (knife), as well as other charges pending.