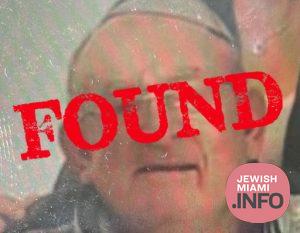 Jewish Man Reported Missing in Hollywood Found
by JewishMiami.info
A 73-year-old Jewish man missing over Shabbos in Hollywood has been found, after disappearing while riding his motorized scooter Shabbos morning.
Michael Weiss was reported late Shabbos day missing, having last been seen on the 3500 block of South Ocean Dr at around 11:00am on his red/black motorized scooter wearing a dark colored suit, blue dress shirt, and tan hat.
As Weiss is unable to walk and suffers from Dementia, the Hollywood Police Department published a Missing Persons Alert, asking for the community's help in locating him.
Thankfully, in the evening hours, the missing man was found, and the search called off.
Rabbi Lebel Kudan wrote a heartfelt thank you on social media, saying "Thank you to everyone who helped search for him! A special thank you to Hollywood Pd, Hatzala of South Florida, our beautiful local community who helped search. And a shout out for my friend Adam Gruber for dropping everything to help join the search!"