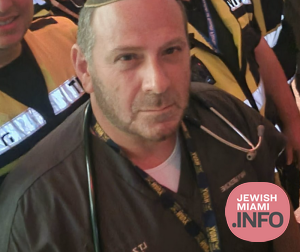 Jewish Surfside Doctor Joins United Hatzalah in Humanitarian Mission For Ukrainian Refugees
by JewishMiami.info
When the call for action came to assist with the thousands of refugees fleeing Ukraine, Surfside Doctor Zev Neuwirth answered.
Neuwirth, an Orthodox Jewish Doctor living in Surfside, flew out with his two sons who are also medical professionals, to the Moldova/Ukraine border where he is assisting with those streaming out of Ukraine.
"Right now, what is actually being seen is devastating, and there's actually no words to describe it," Zev said. "There is not actually enough time to think about what's happening. You just see somebody suffering and you're just put into motion to help alleviate, and so it hasn't hit us yet."
The journey to the border itself was arduous, requiring three flights and three border crossings that took over 32 hours.
According to a report by local10, Zev is one of four physicians who made the trip from South Florida to assist.