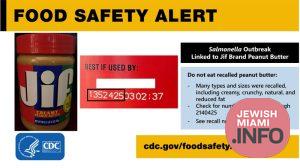 JIF Peanut Butter Recall Over Salmonella Contamination
JIF Peanut Butter products from J. M. Smucker Co. are under voluntary recall after salmonella contamination was suspected for many of their products.
Fourteen people have become sickened, but no deaths were reported, in the suspected contamination which triggered the recall that is affecting all 50 states and Canada.
According to a release by the CDC, the recalled products include lot codes 1274425 through 2140425 which can be found below the best-if-used by date on the label.
A full list of lot numbers and products can be found below:
| | |
| --- | --- |
| 5150025516 | JIF 16 OUNCE CREAMY PEANUT BUTTER |
| 5150025537 | JIF 16 OUNCE CRUNCHY PEANUT BUTTER |
| 5150024705 | JIF 96 OUNCE CREAMY PEANUT BUTTER TWIN PACK |
| 5150024706 | JIF 96 OUNCE CRUNCHY PEANUT BUTTER TWIN PACK |
| 5150007565 | JIF 40 OUNCE NATURAL CRUNCHY PEANUT BUTTER |
| 5150008026 | JIF 12 OUNCE CRUNCHY PEANUT BUTTER INTERNATIONAL |
| 5150008051 | JIF 3/4 OUNCE PEANUT BUTTER PLASTIC CASE |
| 5150008058 | JIF .64 OUNCE NATURAL PEANUT BUTTER PLASTIC CASE |
| 5150021889 | JIF 96 COUNT NATURAL PEANUT BUTTER TO GO CASE |
| 5150024114 | JIF 36 COUNT CREAMY JIF PEANUT TO GO CASE |
| 5150024130 | JIF 8 COUNT CRUNCHY PEANUT BUTTER TO GO |
| 5150024136 | JIF 8 COUNT CREAMY PBTR TO GO |
| 5150024137 | JIF 4.5 OUNCE CREAMY PEANUT BUTTER TO GO |
| 5150024143 | JIF 54 OUNCE CREAMY PEANUT BUTTER TO GO 36 PACK |
| 5150024163 | JIF 28 OUNCE CRUNCHY PEANUT BUTTER |
| 5150024170 | JIF 96 COUNT CREAMY PEANUT BUTTER TO GO |
| 5150024174 | JIF 54 OUNCE NATURAL CREAMY PEANUT BUTTER TO GO 36 PACK |
| 5150024177 | JIF 28 OUNCE CREAMY PEANUT BUTTER |
| 5150024182 | JIF 40 OUNCE NATURAL HONEY |
| 5150024191 | JIF 12 OUNCE CREAMY PEANUT BUTTER |
| 5150024307 | JIF 12 OUNCE NATURAL CREAMY PEANUT BUTTER TO GO |
| 5150024321 | JIF 40 OUNCE NATURAL CREAMY PEANUT BUTTER |
| 5150024322 | JIF 28 OUNCE NATURAL CREAMY PEANUT BUTTER |
| 5150024331 | JIF 4 POUND CAN CREAMY PEANUT BUTTER |
| 5150024404 | JIF 96 OUNCE NATURAL CREAMY TWINPACK |
| 5150024540 | JIF 15.5 OUNCE NO ADDED SUGAR PEANUT BUTTER |
| 5150024545 | JIF 13 OUNCE SQUEEZABLE POUCH |
| 5150024548 | JIF 33.5 OUNCE NO ADDED SUGAR PEANUT BUTTER |
| 5150024545 | JIF 13 OUNCE SQUEEZABLE POUCH |
| 5150024572 | JIF 13 OUNCE NATURAL SQUEEZE POUCH |
| 5150024572 | JIF 13 OUNCE NATURAL SQUEEZE POUCH |
| 5150024769 | JIF 80 OUNCE CREAMY PEANUT BUTTER TWIN PACK |
| 5150024776 | JIF 80 OUNCE CRUNCHY PEANUT BUTTER TWIN PACK |
| 5150025499 | JIF 40 OUNCE REDUCED FAT CREAMY PEANUT BUTTER |
| 5150025516 | JIF 16 OUNCE CREAMY PEANUT BUTTER |
| 5150025518 | JIF 16 OZ REDUCED FAT CREAMY PEANUT BUTTER |
| 5150025530 | JIF 16 OUNCE CREAMY OMEGA 3 PEANUT BUTTER |
| 5150025537 | JIF 16 OUNCE CRUNCHY PEANUT BUTTER |
| 5150025542 | JIF 80 OUNCE NATURAL CREAMY PEANUT BUTTER TWIN PACK |
| 5150025565 | JIF 16 OUNCE NATURAL CREAMY PEANUT BUTTER |
| 5150025574 | JIF 16 OUNCE NATURAL CRUNCHY PEANUT BUTTER |
| 5150025578 | JIF 16 OUNCE NATURAL CREAMY PEANUT BUTTER HONEY |
| 5150072001 | JIF 40 OUNCE CREAMY PEANUT BUTTER |
| 5150072002 | JIF 40 OUNCE CRUNCHY PEANUT BUTTER |
| 5150075007 | JIF TO GO 8 PACK 250 GRAM CREAMY |
| 5150041418 | JIF 46.5 OUNCE NO ADDED SUGAR PEANUT BUTTER |
| 5150092100 | JIF 1.1 OUNCE PORTION CONTROL PEANUT BUTTER 120 COUNT |
| 5150024705 | JIF 96 OUNCE CREAMY PEANUT BUTTER TWIN PACK |
| 5150024177 | JIF 28 OUNCE CREAMY PEANUT BUTTER |