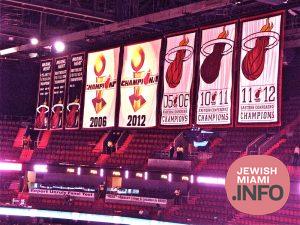 Judge Terminates Naming Rights Agreement For FTX Arena
by JewishMiami.info
On January 11th, a federal judge terminated the naming rights agreement for the FTX Arena, home to the Miami HEAT.
"When the news first broke about FTX several weeks ago, Miami-Dade County took immediate legal action to terminate our business relationship with FTX," said Miami-Dade County Mayor Daniella Levine Cava. "On January 11th, our motion to lift the automatic stay of the FTX's bankruptcy proceedings to terminate the original naming rights agreement in its entirety was approved.
Miami-Dade County and the HEAT will now work aggressively to identify a new naming rights partner for the arena.
"We remain proud of the impact our Peace & Prosperity Plan — sponsored by County Commissioner Keon Hardemon and funded through the original deal — is already having in preventing violence and creating opportunity for young people across Miami-Dade," Cava said. "We look forward to identifying a new partner to continue funding these and other new critical programs in the years ahead."
FTX, a fames crypto firm, went suddenly bankrupt just a few weeks ago, involving losses in the billions of dollars for investors and others. As part of the collapse, billions disappeared under questionable circumstances.