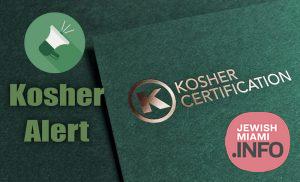 Kashrus Alert: Costco Bakery Items Kosher Only In Certain Stores
The OK Kashrus agency has published a Kashrus alert regarding the Costco Bakery items, noting that they are kosher only in specific stores and only bearing the OK-D certification.
"Please be advised, bakery products in Costco are only certified when bearing the OK-D symbol," the OK wrote.
These are further limited to the stores listed below, with both the North Miami Beach and Boca Raton Costcos on the list.
#1062 – New York, NY 10035
#1070 – Rego Park, NY 11374
#1215 – Oceanside, NY 11572
#226 – Westbury, NY 11590
#241 – New Rochelle, NY 10805
#305 – Nanuet, NY 10954
#310 – Lawrence, NY 11559
#316 – Staten Island, NY 10314
#318 – Brooklyn, NY 11232
#1093 – Morganville, NJ 07751
#1177 – Wayne, NJ 07470
#1214 – Teterboro, NJ 07608
#323 – Edison, NJ 08817
#329 – Ocean, NJ 07712
#1124 – Wheaton, MD 20902
#1326 – Owings Mills, MD 21117
#308 – Waltham, MA 02451
#319 – Dedham, MA 02026
#649 – West Homestead, PA 15120
#1084 – Brookhaven, GA 30319
#188 – Perimeter, GA 30328
#1332 – N. Miami Beach, FL 33181
#345 – Boca Raton, FL 33487