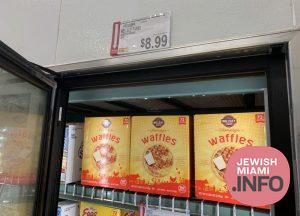 KASHRUS ALERT: Mislabeled Wellsley Farms Waffles
The Orthodox Union (OU) Kosher Certification has released a Kashrus Alert regarding Wellsley Farms Waffles, which were mistakenly mislabeled with a plain OU instead of OU-Dairy.
The Wellsley Farms Waffles are sold under the Wellsley Farms Brand, and come in Blueberry and Chocolate flavors.
The Orthodox Union certifies Wellsley Farms Blueberry Waffles and Chocolate Waffles as OU D – Dairy products. Some labels were printed with a plain OU mark, without the D – Dairy designation. Corrective actions are being implemented.
The brand is sold in BJ's Wholesale, based in Westborough MA.