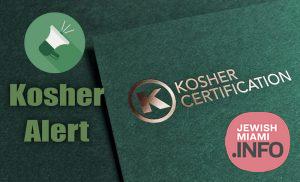 Kashrus Alert: Quore Gelato Displaying Unauthorized Kosher Symbol
by JewishMiami.info
The OK Kashrus has published an alert notifying the Jewish community after Quore Gelato in Wynwood, Aventura Mall and Hollywood, FL were found displaying the OK Kashrus symbol on various signs.
"Quore Gelato, with locations in Wynwood, Aventura Mall and Hollywood, FL is displaying an unauthorized OK on various display signs," they wrote in the alert. "OK Kosher does not certify these establishments or their products."
According to the Kashrus organization, corrective actions are being taken.
Quore Gelato is an ice cream store that infuses its ice cream with liquor, making it a local hot spot but a significant kashrus issue. The store published an announcement in March that they were now Kosher Certified, but did not elaborate as to which certification would be providing their certification.
In some of photos available online, the Quore Gelato signs included the Kosher Miami Certification logo, but a quick search of the establishments certified by Kosher Miami show that Quore Gelato is not presently on the list.