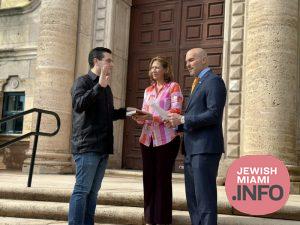 Kevin Marino Cabrera Sworn in as Miami-Dade County Commissioner for District 6
Surrounded by family and friends, Kevin Marino Cabrera was sworn in as Miami-Dade County Commissioner for District 6 on Tuesday.
"As the son of Cuban exiles, it is the honor of a lifetime to take my oath of office at the historic Freedom Tower — Miami's beacon of hope that welcomed thousands of Cuban exiles seeking freedom."
"I am ready to work and make county government more accountable, transparent, and responsive to the needs of the people it represents. I will work daily to improve our residents' lives, particularly those struggling in this economic climate. I will work diligently with our small business community to make county government a true partner so that they can expand and grow and provide our community with the high-paying jobs our residents need and deserve," added Commissioner Cabrera.
Kevin Marino Cabrera was elected to the Miami-Dade Board of County Commissioners on Nov. 8, 2022, by the residents of District 6. Commissioner Cabrera's vast political experience comes from years of having worked as director of constituent services for a Member of Congress and managing political campaigns at both the state and federal levels.
As an active member of the local community, Commissioner Cabrera was appointed Councilman for West Kendall's Community Council, local land use and zoning board in Miami-Dade County, in 2015. He was subsequently elected to a full term in 2016.
A Miami native, Commissioner Cabrera majored in Political Science with a minor in International Relations at Florida International University, graduating cum laude. Commissioner Cabrera is also an Honors graduate from Miami-Dade College, where he received an Associate Degree in Public Administration. Kevin is married to Demi Busatta Cabrera, and they reside in Coral Gables, Florida.