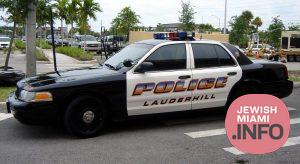 Lauderhill Police Car Torched In Front of Chabad of Inveraray
by JewishMiami.info
A police car parked outside the Chabad of Inveraray was torched Wednesday night in an apparent act of arson.
The Lauderhill Police Cruiser had been parked as a deterrent outside the Chabad Shul on NW 44th St. at around 12:15am when a person could be seen on video dousing the car and setting it on fire.
According to WSVN, police made an arrest near the shul at around 8:00am.
The car was towed from in front of the shul as the police continue their investigation.