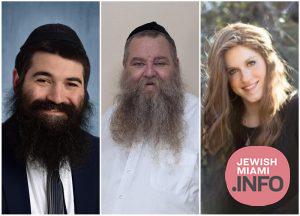 Lubavitch Hebrew Academy's Growth Attracts New Talent With the Hiring of Two New Principals
by JewishMiami.info
Enrollment at Lubavitch Hebrew Academy in Margate has increasing exponentially, and to ensure that quantity never replaces quality, the educational leadership at the school must expand.
"We are super-excited to announce Rabbi Shneur Wilhelm as our Boys Judaic Studies Principal and Mrs. Chaya Minsky as our Girls Judaic Studies Principal," the school announced in an email sent to the parents.
Another move within the school is the appointing of Rabbi Sheinberger, a principal in the school for years, as the new Dean of Judaic Studies. In his new roll, Rabbi Scheinberger will focus primarily on "the schools educational philosophy, curriculum mapping, and enhancing the roadmap for educational excellence," according to the email.
LHA is distinguishing itself internationally within the Lubavitch educational system by undertaking a first of its kind, multi-year project to cohesively map and implement an entire Judaic curriculum, with leveled standards, skills, and values objectives in all grades.
Rabbi Wilhelm is coming to from Las Vegas where he previously served as assistant principal of Desert Torah Academy. Originally an Oregon native, Rabbi Wilhelm was the principal at MJDS (Maimonides Jewish Day School) for six years. While there, he guided the school to become accredited for Judaic and General Studies, and established multi-generational extra curricular programs.
Rabbi Wilhelm's family will be moving to South Florida this summer.
Mrs. Minsky, who previously held the position of lead Middle School Girls' teacher at the school, is being promoted to Assistant Principal. Her expertise in imparting and developing students' skills is legendary.
Both principals will deal with faculty, students and parents with a focus on achieving maximum success for every student.