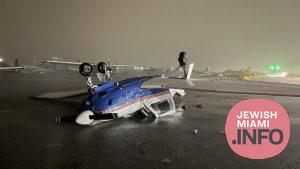 Major Road and Airport Closures Remain in Ian's Wake
As calm weather returns to South Florida, the toll that the Hurricane took still remains a crushing mystery. Search and Rescue Teams have converged and thousands of recovery workers are working around the clock.
The toll on the state infrastructure is more apparent. Below is a complete list of major road and airport closures throughout Florida.
The list of closures as of 10 a.m., 9/29/22:
Up-to-date closures listed on FL511.com:

Brevard County
Richy Road Southbound at US-1
DeSoto County
SR 72 at SR 70
Flagler County
SR-100 Eastbound at N. Central Ave
Hardee County
S.R. 64 East at Parnell Road
Indian River County
Indian River Blvd at Royal Palm Poine
Lee County
Pine Island Road Bridge
Sanibel Causeway
Manatee County
John Ringling Causeway
Bridge at S.R. 64 / Manatee Ave East 
Cortez Bridge
Orange County
I-4 Express at Kirkman
I-4 Express at MM 79
SR-551/ Goldenrod Road at Nolton Way
SR-520 at SR 528
Turnpike at Orange Blossom Trail On Ramp
SR 417 Exit 12
Osceola County
Vermont Ave at 13th Street
W Vine St at John Young parkway
Columbia  Ave at 13th Street
Pinellas County
Sunshine Skyway Bridge
Memorial Causeway
Sarasota County
John Ringling Causeway
Sumter County
SR 50 at CR 773
US 301 a CR 470
Volusia County
Ormond Beach – Granada Blvd at Halifax River – all lanes closed
Daytona Beach – Mason Ave at Tower St – both directions, all lanes closed
Daytona Beach – Main St at S. Halifax Ave – both directions, all lanes closed
Daytona Beach – East International Speedway Blvd at North Beach St – both directions, all lanes closed
Daytona Beach – East Orange Ave at South Beach Street – both directions, all lanes closed
Daytona Beach –  Lytle Ave  at Palmetto St – both directions, all lanes closed
Port Orange – Dunlawton Ave at Halifax Dr – both directions, all lanes closed
Port Orange – Dunlawton Ave at South Peninsula Dr – both directions, all lanes closed
North Causeway at Washington Street
Daytona Beach International Airport – Closed
Gainesville Regional Airport –Airline operations will be suspended beginning at 6:00am on 09/29/22.
Jacksonville International Airport – The airport terminal is currently closed and all commercial flights are canceled in and out of JAX on 09/29/2022.
Melbourne Orlando International Airport – Closed
Northeast Florida Regional Airport – Emergency Operations Only
North Perry Airport- Closed
Orlando International Airport – Emergency Operations Only. Closed to Commercial Service.
Orlando Sanford International Airport- Emergency Operations Only
Punta Gorda Airport – Closed – Runway clearing in progress
Sarasota Bradenton International Airport- Emergency Operations Only
Southwest Florida International Airport – Closed  
St. Pete/Clearwater International Airport – Closed
Tampa International Airport – Closed