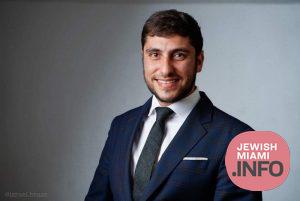 Meet Yosef Brass, The Frum Candidate For North Miami Beach's City Commissioner Group 6
by JewishMiami.info
As the Orthodox Jewish population of South Florida continues to balloon, the opportunity for local representation gains steam, and for some areas, the time is now.
Yosef Brass was born and raised in North Miami Beach and called the city home for over 25 years. Growing up here with his family, Yosef attended the local schools and went on to volunteer for community organizations such as Tomchei Shabbos and Chaverim of South Florida.
Now, as a blue-collar professional, Yosef has announced his candidacy ​for North Miami Beach's City Commissioner Group 6.
"As your next City Commissioner, Yosef cannot wait to work one-on-one with our residents in promoting practical and common sense solutions," Yosef's website promoting his campaign writes. "He will always be straightforward and ensure we have principled local public servants who remain accessible."
Yosef's campaign comes on the heels of another successful campaign that elected Shlomo Danzinger, an Orthodox Jewish businessman, as the Mayor of Surfside.
For Yosef, communication and problem solving are his priority.
"As a blue-collar worker I am constantly involved in diagnosing and fixing issues that come up on a daily basis. I think that is exactly what our City needs right now," he said.
The election in which Yosef is running will take place in November 8th, 2022.