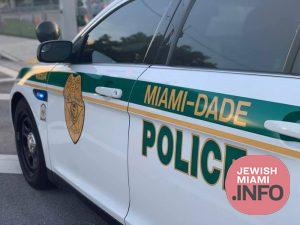 Mentally Disturbed Man Arrested In Aventura Shul Found To Have Knife
by JewishMiami.info
Officers of the Miami-Dade Police Department arrested a man in the Netive Ezra Shul in Aventura after shul members became suspicious and took action.
According to one of the Shul members, the man, now identified as being a Muslim, had been making rounds of local Shuls in Broward and Dade Counties taking part in Shiurim and davening. During his time in Netive Ezra, a Yeminite Shul, the shul members became suspicious of how he was speaking and decided to investigate.
The man, whom was described as clearly having a mental illness, claimed that he was interested in converting to Judaism. Police were called, and during the subsequent search of his car, a knife was found.
Ultimately, the police took the man into custody for psychiatric care and warned him that he should not trespass on the Shul's property again.
Rumors across Social Media have been claiming that the man was a terrorist, a claim that has been proven to be unfounded.
The truth later became apparent after a local rabbi vouched for the man's story, saying that despite his mental issues he had good intentions. Unfortunately, due to a mental episode, he had to be detained for his safety and the safety of others.