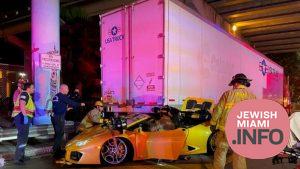 Miami Crash Puts Lamborghini Under Truck
by JewishMiami.info
That's one expensive crash.
A yellow Lamborghini was way too close for comfort with a tractor trailer Monday night, leading to the sports car to be crushed under the truck.
Miami Fire Rescue responded to an emergency call just before 11:00pm in the area of Southwest Eighth Street and Fourth Avenue for a sports car that crashed into the rear of a truck.
According to officials, the driver of the vehicle had been able to extricate himself from the mess before Rescue Units arrived, but the passenger was trapped inside.
To rescue the trapped passenger, Rescue used stabilizers and air bags to lift the truck and tow the Lamborghini out from underneath. The Lamborghini door was later removed, and the passenger rescued.
Both the driver and passenger were transported to Jackson Memorial Hospital's Ryder Trauma Center.
Photo Credit: City of Miami Fire Rescue