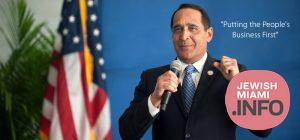 Miami-Dade County Commissioner Suspended By Governor Over Unlawful Compensation For Official Behavior
Today, Governor Ron DeSantis issued Executive Order 22-215, an Executive Order of Suspension, suspending Jose Angel Martinez from his position as County Commissioner for Miami-Dade County, District 11.
On August 30, 2022, an Information was issued against Martinez for felony charges of unlawful compensation for official behavior, in violation of section 838. 016(1), Florida Statutes, and conspiracy to commit unlawful compensation, in violation of section 838.016 and section 777. 04(3), Florida Statutes.
"These violations constitute felonies in the second and third degree, and it is in the best interest of the residents of Miami-Dade County that Martinez be immediately suspended from the public office that he holds," a Press Release from the Governor's office said. "The Governor will appoint a commissioner to fill the District 11 seat in the coming weeks"
Martinez was first elected to represent the residents of District 11 in October 2000, and is the only Commissioner to have been elected twice by his peers as the Chairman of the Board, serving in that capacity from 2005-07 and again in 2011-13.
Martinez began his public service career in 1984 as an officer with the Miami-Dade Police Department. He worked his way up through the ranks, serving as a detective with the General Investigations Unit from 1988 to 1992, and subsequently was promoted to Police Sergeant, Police Master Sergeant and Police Lieutenant.