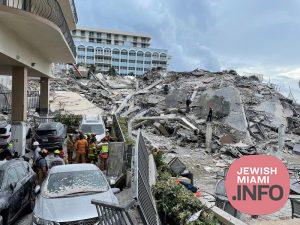 Miami-Dade Fire Rescue Media and Public Relations Bureau wins​ Social Media Golden Post Award for Best Use of Social Media During Surfside Collapse
Miami-Dade Fire Rescue (MDFR) Media and Public Relations Bureau was awarded a Government Social Media Golden Post Award in the category of "Best Use of Social Media in an Emergency," for how the agency shared accurate and timely information with the public during the catastrophic partial collapse of the Champlain Towers South building in Surfside, FL, on June 24, 2021.
The 7th annual Golden Post awards ceremony took place during the Government Social Media Conference in Dallas, TX, on Wednesday, March 30, to recognize the outstanding use of social media by U.S. local and state and federal government agencies, where MDFR participated, among other four finalists from around the nation, and won.
In 2022, nearly 400 entries were received, setting a record compared to any other year, for the 10 different categories that focus on social media strategy, techniques and results. All entries were reviewed by a distinguished panel of judges representing government agencies all across the country.
"In today's world, emergencies happen as we all watch in real-time. Having a trusted source of information helps our communities stay informed and safe," said Mayor Daniella Levine Cava. "Miami-Dade Fire Rescue's communicators were accurate, compassionate, and provided our residents the latest developments as a very difficult and challenging search and rescue operation unfolded. I am so proud of their professionalism and humanity."
As the recipient of the "Best Use of Social Media in an Emergency," MDFR was recognized for its exceptional use of social media during an emergency, demonstrating a solid social media crisis strategy in effectively reaching the public in the time where it matters most.
"Social media has become the main platform for safety and emergency information," said Fire Chief Alan Cominsky. "Having a reliable source is essential for our community, especially during emergencies."
Government Social Media LLC supports public sector social media professionals by hosting national events, facilitating online training and organizing a community of government social media managers across the country.