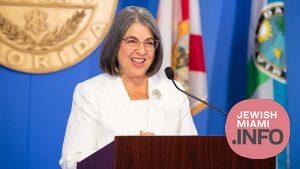 Miami-Dade Mayor Orders Review of All County Contracts for Connections with Russian Businesses
On Monday, Miami-Dade County Mayor Daniella Levine Cava issued a memorandum ordering all county department directors to conduct a complete review of all county contracts to ensure that none are connected to Russian business interests, of any kind.
"As the world continues to monitor Russia's continued aggression against Ukraine, Miami-Dade County stands in solidarity with the people facing the effects of this unprovoked war," said Miami-Dade County Mayor Daniella Levine Cava. "In a community like ours – built by immigrants and refugees fleeing from all corners of the globe in search of a better life, peace and democracy – we have always extended a hand to help those who come to us in need. In this spirit, we will do our part to ensure that we are part of the solution.
"In this defining moment, we must always defend democracy and the rights of people to live in peace. Our county must not, in good conscience, continue any business relationship that could directly or indirectly bankroll violence and war against Ukraine."
Shortly after issuing the memorandum, the mayor shared her decision on Twitter.