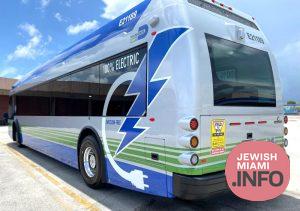 Miami-Dade Transit and Garbage Pickup Schedule For The 2022 Thanksgiving Holiday
by JewishMiami.info
It's Thanksgiving, and the day off of work also means a change in municipal schedules. Here are the schedules for Miami-Dade Transit and Garbage pickup.
– All Department of Solid Waste Management (DSWM) waste and recycling collection services will occur on a normal schedule, and all DSWM disposal facilities will observe normal operating hours on Thanksgiving Day, Thursday, November 24, 2022.
For more information on the DSWM's Thanksgiving Day holiday service schedule, call 311 before the holiday or visit www.miamidade.gov/solidwaste.
– On Thursday, November 24, 2022, in observance of Thanksgiving, the Department of Transportation and Public Works (DTPW) will operate Miami-Dade Transit services – Metrobus, Metrorail, and Metromover – on a Sunday schedule. On Friday, November 25, 2022, Miami-Dade Transit will provide regular weekday service on Metrobus, Metrorail and Metromover.
In observance of the Thanksgiving holiday, Miami-Dade County offices will be closed on Thursday and Friday; this includes all DTPW's administrative offices, Customer Service offices, Transit Service Centers, Special Transportation Services (STS) and the Golden Passport office at the Stephen P. Clark Center. However, STS customers can still call the STS reservation number at 305-871-1111 to reserve or cancel an STS trip. Transit riders who prefer to access services online can purchase or reload an EASY Card in the Transit Store or the Go-Miami Dade App, or use contactless payments to pay fares. Customers can also submit a new application for a Golden Passport EASY Card on DTPW's Golden Passport online page.