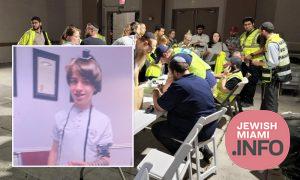 FOUND: Search Underway For 14-Year-Old Jewish Boy In Coral Springs
by JewishMiami.info
The Orthodox Jewish community across South Florida flocked to Coral Springs Wednesday night to assist in the search for Yitzhak Azaldegui, a 14-year-old boy who went missing.
According to the police, Yitzhak is an approximately 5'9″, 160lbs male last seen on foot in the area of 8700 Wiles Rd. around 6:00pm Wednesday. He was wearing a white shirt, black pants, black shoes, and wearing a yarmulke.
The community answered the call for help as hundreds of volunteers flocked to the Coral Springs Chabad where they were coordinated with volunteers from Hatzalah and Chaverim of South Florida.
As of 9:00am Thursday morning, Yitzhak was still not found.
Volunteers who would like to assist have been asked to go to the Coral Springs Chabad on N University Dr.
If you see Yitzhak, please call the police at 954-344-1800.
Update: B"H Yitzhak has been located safe in Miami. A big thank you was given by the search organizers for the hundreds of volunteers who came out to help search.