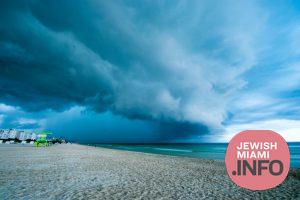 More Than $404 Million for 113 Projects Through the Resilient Florida Grant Program
Today, Governor Ron DeSantis visited Pinellas and Miami-Dade counties to announce the award of grants totaling over $404 million for 113 environmental resilience projects across the state through the Resilient Florida Grant Program, which will help prepare coastal and inland communities for the adverse impacts of flooding and storm surge. The Governor was joined by House Speaker Chris Sprowls, Florida Department of Environmental Protection (DEP) Secretary Shawn Hamilton, Chief Resilience Officer (CRO) Dr. Wes Brooks, and other stakeholders to make the announcement.
"Today's record investment, as well as the projects included in the statewide plan for future funding, will strengthen our infrastructure to withstand the impacts of flooding and storm surge," said Governor Ron DeSantis. "For the first time ever, Florida has strategic coordination of statewide efforts to protect our coastal and inland infrastructure, and the dedicated funding to support these projects. This announcement is just the beginning. My administration will continue to support our communities' resilience efforts across the state."
The projects awarded today will enhance Florida's efforts to protect inland and coastal communities from storm damage spanning across 25 counties. Including the local match associated with these projects, today's state and local investment for resilience totals more than $730 million. 
"Today's record investment is a testament to our administration's steadfast commitment to preserving and restoring Florida's natural treasures," said Lieutenant Governor Jeanette Nuñez. "As a South Floridian, I applaud these significant investments that will further strengthen our inland and coastal communities, while keeping Florida's environment resilient."  
The Fiscal Year (FY) 2021-2022 budget included funding to support the most significant investment in the state's history — over $640 million — to support efforts to ensure state and local communities are prepared to deal with the impacts of sea-level rise, intensified storms, and flooding. 
In his proposed budget for Fiscal Year 2021-22, Governor DeSantis recommended the creation of the Resilient Florida Grant Program to help prepare communities for the impacts of sea level rise and flooding. The Legislature answered the call, passing Senate Bill 1954, which was signed into law by Governor DeSantis. As a result, for the first time ever, the state has a coordinated approach to Florida's coastal and inland resilience and provides a structure for resilience projects to follow the best available science and data while enhancing efforts to protect inland and coastal resources that act as natural defenses against sea-level rise.
In December, Governor DeSantis announced the state's first ever Flooding Resilience Plan which proposes 76 projects across the state totaling over $270 million, subject to appropriation. DEP accepted applications through their online portal through September 1, 2021. A list of projects in the plan can be found here.
Since taking office, Governor DeSantis has taken action to make Florida's communities more resilient. In addition to championing the creation of the Resilient Florida Grant Program, Governor DeSantis created the Office of Resilience and Coastal Protection at DEP to provide funding, technical assistance, and coordination among state, regional, and local entities to help support Florida's coastal communities and appointed the state's first Chief Resilience Officer to coordinate the state's resilience efforts.