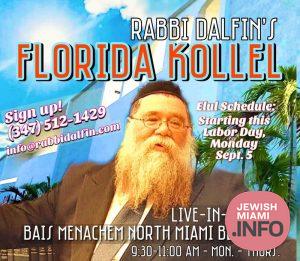 New Florida Kollel Starting In North Miami Beach
Following the success of his Kollel Beit Shemesh started in 2017, Rabbi Chaim Dalfin is bringing that model to Florida. The Kollel is geared for anyone wanting to learn Halacha with contemporary issues, practical Chasidus, and psychological nature.
The Kollel isn't your typical kind for young married people only who get stipends, rather, for all ages and levels. Helping Rabbi Dalfin is another great Torah scholar, Rabbi Simcha Bart, who is also a rabbi in Davie, FL.
There will be chavrusa (study partner) learning, lectures including guest lecturers every two weeks.
The Kollel will take place Monday throuh Thursday, 9:30-11AM.
The location is the Bais Menachem shul in North Miami Beach. Its large, new, beautiful building in Ludington spacious study area lends itself to a most meaningful experience.
Rabbi Bart and Dalfin bring years of adult education Torah teaching with rabbinic counseling.
The Kollel is open to all without charge and supported through donations and dedications available to sponsor a day, week or month of learning.
For more information pl contact Rabbi Dalfin at info@rabbidalfin.com or 347-512-1429.