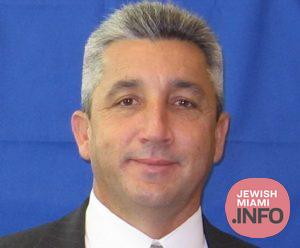 New Police Chief Announced for Fort Lauderdale
by JewishMiami.info
A new police chief has been named for Fort Lauderdale after the previous one was axed over allegations of discrimination.
Fort Lauderdale City Manager Chris Lagerbloom announced today the appointment of retired Police Chief Patrick Lynn as the new Interim Police Chief for the Fort Lauderdale Police Department effective Monday,
Feb. 22, 2021. Chief Lynn will oversee the City's fully accredited Police Department, which includes more than 700 law enforcement officers and support professionals.
Chief Lynn brings 35 years of law enforcement experience to his position as Interim Police Chief. He began his law enforcement career as a patrol officer with the City of Pembroke Pines Police Department in 1982 and rose through the ranks before retiring as the city's Deputy Chief in 2007. Following his retirement from Pembroke Pines, Chief Lynn served as the Police Chief for the Town of Davie Police Department from 2007 to 2017.
Chief Lynn's career includes extensive experience in operations, investigations, and the administration of technologically innovative, community-oriented police agencies. Some of his accomplishments include revamping department hiring and Internal Affairs processes to ensure compliance with state statutes, increasing minority recruitment and hiring community-focused personnel, initiating and completing the construction of a $2.5 million training facility/firearms range to eliminate overtime expenses associated with training and range leasing costs, and establishing a full-time domestic violence investigations position to ensure that all reports of domestic violence are documented and investigated.
Chief Lynn holds a bachelor's and a master's degree in public administration from Florida Atlantic University. He is also a graduate of the 210th Session of the FBI National Academy and the Southern Police Institute Command Officers Course. In addition, Chief Lynn served as the President of the Broward County Chiefs of Police Association and Chairman of the High Intensity Drug Trafficking Area, South Florida Money Laundering Task Force Steering Committee.
The City of Fort Lauderdale will continue moving forward with conducting a search for a permanent Police Chief.