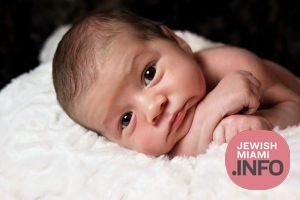 On the List For Most Popular Florida Baby Names, Jewish Ones Take The Lead
by JewishMiami.info
Whether it's David, Daniel, Jacob and Noah, or Sarah, Leah, and Abigail, Jewish names have hit the top 50 most popular baby names for 2020.
Unsurprisingly, the list of most popular boys and girls names in New York State for 2020 was full with Hebrew based and outright Jewish names, with at least one big surprise.
While David, Daniel, Miriam, and Leah are names used even outside the Jewish community, one name that hit the list is seen almost exclusively in it.
The boys name Levi hit number 38 on the list of boys names, with 409 babies named in 2020 in New York State, and number 18 nationally with a total of 9,005.
In comparison, the number 1 boys name was Liam, which had 1,554 babies named in Florida, and 19,659 nationally.
Among the girls born in 2020, the name Abigail was rather popular, with 518 named in Florida, and 1,121 nationally.
To see more on popular baby names: Click Here