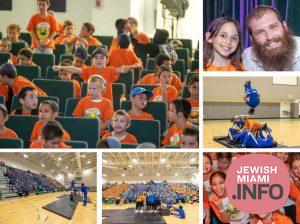 Over A Thousand Unite for Achdus in South Florida
Florida CGI Unity Day was a smashing success!
Children from CGI's across south Florida joined together in unity and joy, organized by Rabbi Shmuly Gutnick of Chabad Youth Network of Florida. Two amazing programs were arranged one for the boys camp and one for the girls camps.
The day started off with an inspirational rally run by Rabbi Shmuly Gutnick and Rabbi Mendel Gutnick. Followed by an off the charts Yossi Rodal concert. The singing, dancing and achdus was incredible to experience! After lunch, the camps filled the gymnasium to watch and participate in a spectacular acrobatic show. In the merit of this beautiful day of unity, may we see the coming of Moshiach now!
Thank you to all the camps that joined for making this day so beautiful!
CGI of Miami L.E.C, Parkland, Delray, Westin, Highland Lakes, Hallandale, Bal Harbour, Inverrary, Margate, & Gan Menachem
Thank you to Sholom Friedman, DJ Izzy, Sound & Lighting by Choni Teitelbaum
Photos by Levik Hertzel