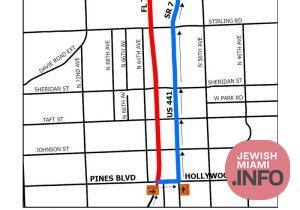 Overpass Damage Forces Necessary Turnpike Closure In Hollywood
Repairs needed to the underside of the Turnpike Overpass in Hollywood just east of N. 64th Avenue will force the closure of turnpike traffic from Hollywood Boulevard (Exit 49) north to Griffin Road (Exit 53), Sunday through early Monday morning.
On September 27, an over-height vehicle traveling northbound on the Florida Turnpike struck the underside of the Sheridan Street Overpass. A Florida Department of Transportation consultant has recommended that due to the severity of the damage, the exterior beam of the overpass be removed so the Turnpike will remain safe for travel. Broward County's Highway and Bridge Maintenance Division will perform the necessary work beginning Sunday, October 2 at 10AM through Monday, October 3 at 5AM. While they are working three northbound lanes and the inside southbound lane of the Turnpike will be closed. Traffic will be detoured. See the attached map below.
As a reminder, all eastbound lanes and the adjoining southside sidewalk on Sheridan Street at the Turnpike Overpass in Hollywood just east of N. 64th Avenue remain closed until further notice. Vehicular travel on the eastbound portion of Sheridan Street over the Turnpike has been detoured to southbound N. 64th Avenue, then eastbound on Taft Street to northbound State Road 7 (441).