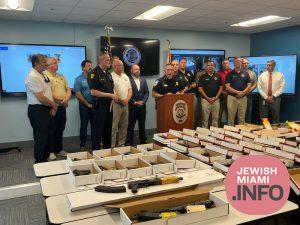 Panama City Police Showcase Seized Guns Over Spring Break
by JewishMiami.info
The Panama City Police Department of Bay County, Florida showcased a startling array of weapons seized from Spring Breakers this past weekend.
"This past weekend has been a difficult and trying one for our team of officers with the Panama City Police Department," Panama City Police Department Chief Mark Smith said. "This past weekend, things in our city and county became more difficult. An undesirable criminal element descended on our city and county, disguised as spring breakers."
The outcome of the influx of spring breakers – and the accompanying criminal activity – was showcased at a press conference, and what what shown was startling.
Hand guns, shotguns, and rifles covered no less than nine tables, all taken from the beach area over a period of just two days.
Law enforcement leadership vowed to hold the criminals responsible.

"To those individuals that think they can come to our city and break the law, we will be waiting for you with the promise to be professional and intolerant, and you will be held accountable for your actions.
To those individuals that live and visit our city, we encourage you to continue to be a part of the premier city in the Panhandle and all it has to offer. Enjoy our city in a peaceful and respectful manner, and we thank you and wish you all the best."