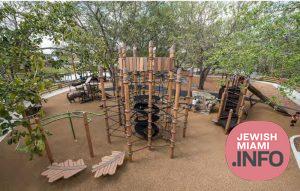 Playground Park Shift In Miami-Dade Has Natural Playscape Designs
Miami-Dade County Parks, Recreation and Open Spaces Department playgrounds are undergoing a massive shift from the traditional pre-fabricated, cookie-cutter look, to incorporate nature-inspired components into the designs.
This change in aesthetic complements parks' natural-occurring features while creating a more adventurous and eco-minded public space that enhances the play experience for all, according to the Parks Department. Transitioning to eco-based playground facilities additionally fulfills the needs of providing Miami-Dade County citizens an outlet to engage and learn about their natural world all within an urban dominated setting.
"Nature-based play encourages children to experience the world around them, through a curated natural environment," the Department said. "They help children to foster beneficial aptitudes in the development of their personalities, including social, emotional and interpersonal skills.
Miami-Dade County Parks' natural playscapes engage their participants in cooperation of mutual tasks and enhance cognitive ability to solve problems. This is all in addition to the gross motor skill benefits associated with traditional playgrounds.
Recently, Miami-Dade Parks was recognized for their nature based playgrounds with a 2021 Gold Coast Award of Merit. The new playground development is being implemented in hopes of further encouraging children to seek more outdoor exercise and playtime in Miami-Dade County's beautiful parks, allowing them to disconnect from technology and reconnect to the natural world around them, while letting their imaginations soar.
Make sure to visit a nature based park near you.