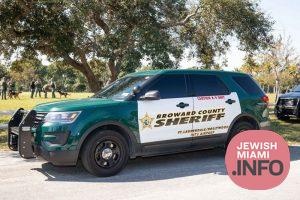 Police Find Car, ID Victims In Double Fatal Hit-and-Run
by JewishMiami.info
The car wanted in connection with a hit-and-run that took the lives of two children Monday has been found, according to the Broward Sheriff Office.
The car, which was discovered without the driver, had driven onto a sidewalk around 2:45pm in an attempt to get around a bus according to witnesses, striking six children and killing two.
The identities of the injured and deceased were released today.
Andrea Fleming, 6, and Kylie Jones, 5, were identified as the two who died. Boys Johnathan Carter, 10, and Andre Fleming, 2, and girls Draya Fleming, 9, and Laziyah Stokes, 9 were taken to Broward Health Medical Center, where they were treated for their injuries..
The driver of the vehicle remains at large, and the incident continues to be under investigation.